Lisa Thrift
BMus Ed (Sydney Conservatorium), A.Mus.A (voice), A.Mus.A (piano), Cert. IV Live Production, Theatre & Events (NIDA)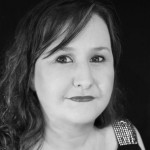 For the past 20 years Lisa has performed and taught as a professional musician.
She has studied and performed in Australia, the U.K., Canada and the USA. Lisa
has been a private vocal teacher for over 20 years and teaches a variety of styles
including classical, pop, jazz and music theatre.
She completed a Bachelor of Music Education at Sydney Conservatorium and
won the Verbrugghen Scholarship for Voice whilst studying. Lisa has studied
with Maree Ryan (Head of Opera, Sydney Conservatorium), Brenda Holleman
(American soprano) and Victor Morris (Head of London Opera Chorus) and has
won many opera competitions throughout NSW.
Corporate work has included being a vocalist at many corporate events,
Australia Day, Bicentennial and New Year Celebrations and many local and state
political events. Career highlights have included singing for former PM John
Howard and performing with Rob Guest and Human Nature in Concert.
Her involvement with Music al Theatre have included some memorable roles
such as: Cosette (Les Miserables), Svetlana (Chess), Little Red Riding Hood (Into
the Woods), Sally (Me & My Gal), Anita (West Side Story), Mary (Merrily We Roll
Along), Dusty (Dusty Springfield – The Musical) and Joanne (Company)
Lisa has also had an extensive career in Music Education and has taught in
various high schools specialising in Music 1, Music 2 & Extension. She also has
vast experience in music direction and has conducted and arranged both vocal
and instrumental music for both chamber and large ensembles.
---